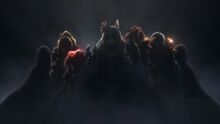 The Seven Crowns are the leaders of Wisdom, and the masterminds behind the creation of Minerva and the Legend of Astrum. They each possess an Inherent Ability, and can bestow a part of their power on one other player, turning them into a Princess Knight and giving them their own Inherent Ability.
In Season 1 Chapter 7 of the Main Story, it is revealed that Kokoro's father is/was one of the Seven Crowns as she read a paper on the names of the Seven Crowns given from Diablos and finds out that her father's name is on the paper.
In Season 1 Chapter 10 of the Main Story, it is further revealed that the power of a Seven Crowns character can be passed down to another person as Kokoro possesses the power of a Seven Crowns from her father. This however, does not mean that Kokoro is considered to be a Seven Crown in status.
Rage Legion had suspected that Homare was one of the Seven Crowns. But when Ranpha confronted her and asked if she was a member of the Seven Crowns, Homare replied that she could neither confirm nor deny it.
Members
The Seven Crowns Current Members
Image
Name
Title
Guild
Inherent Ability
Princess Knight

Raj Raj
(Rajkumar Rajnikanth)

跳躍王
(キングリープ)
King Leap

Eternal Society
(Former)

Leap

(空間跳躍)

Daigo

Neneka
(Neneka Utsushimi)

変貌大妃
(メタモルレグナント)
Metamorregnant

Kaleidoscope
(Former)

Copy Creation

(コピー)

Masaki

Christina
(Christina Morgan)

誓約女君
(レジーナゲッシュ)
Regina Geis

Round Table
(Former)
NIGHTMARE (Former)

Numbers Avalon

(乱数聖域)

None

Mana
Eustiana (Arc 1 Re Dive)
(Mana Senri)

覇瞳皇帝
(カイザーインサイト)
Kaiser Insight

None

Hadou Tensei

(覇瞳天星)

Kyaru

Labyrista
(Akira Mosakuji)

迷宮女王
(クイーンラビリンス)
Queen Labyrinth

Labyrinth

Object Change

(オブジェクト変更)

Yuuki

Elfiria Tarel Dahl Zola

(Elf Village's Elder)

(Natsume?)

嚮導老君
(グレトガイダンス)
Great Guidance

???

Beresheet

(天沼鉾)

Kokkoro

????
(????)

???

???

???

???