"My magic is pretty awesome, isn't it? Hee hee, come on, praise me more!"

Kiruya Momochi (百地 希留耶, Momochi Kiruya), or known by her alias of Karyl, is a character in Princess Connect! Re:Dive. A magic-user who has the ability to tame and control monsters, she is a member of the Gourmet Guild.
Appearance
Kiruya has fair skin with sharp green eyes and long dark grey hair worn in low pigtails with thickly curled ends. The forelocks on the right are partially longer with a single white streak towards the bangs. She has cat ears and a tail. Normally, she wears an indigo and gold bodice and off-shoulder bell sleeves with black ruffles. Her top has mauve detail and white crimped fabric covering the collarbone with a garnet brooch on a black ribbon at her neck. Her skirt is light purple with a garnet diamond chain attached to two smaller chains, and trim around the bottom are black and white ruffles.
Personality
TBA
History
Arc 1
Prologue
Having gone to the woods by herself, Karyl finds a large group of monsters and quickly tames all of them to do her bidding. While waiting for her target to appear, some of them fall out of line and chase after a girl, Yui, who was passing by. Things go south as all of the monsters she has tamed get quickly wiped out by Yui and three others -- Yuuki, Kokkoro and Pecorine. One of the monsters get sent flying towards Karyl, knocking her unconscious where she is soon found by the others, with Yuuki carrying her to Landosol as the group depart. Hours later, Karyl wakes up and finds herself in a clinic before hastily leaving.
Later on, she comes across both Yuuki and Kokkoro, who she thanks for helping her earlier and, despite being told to avoid contact with the former, decides to treat to dinner as her way of saying thanks. In a restaurant, they find Pecorine, who had just finished eating through a plentiful plate of food by herself, and invites them to join her. Karyl becomes annoyed at Pecorine's attempts to be friendly with her, but nevertheless joins them to eat. However, when the food arrives, she learns that bugs are part of the ingredients for the food they have been served, causing Karyl to freak out in disgust, demanding Pecorine not shove any of it in her face and trying to convince Yuuki to agree with her on how disgusting bugs are as food.
Chapter 2: Regina Geas
While the rest of Nightmare's Royal Knights chastise Christina Morgan for trying to jumpstart a war between the humanfolk and beastfolk, Karyl approaches Christina to welcome her back and tells her that Her Majesty, "Princess Eustiana", wants to see her and the two head inside the castle.
Chapter 4: Pastures in Peril
After her first contact with Pecorine, and later properly meeting Yuuki and Kokkoro, Karyl becomes a member of their guild the Gourmet Guild. While out adventuring with her guildmates, it's revealed that Karyl had been tasked by "Eustiana" to observe both Pecorine and Yuuki, and to assassinate both at the right opportunity, however, Karyl starts to lose track of her objective throughout her time with her new guildmates. Months later, after being reminded of her mission, Karyl sets off to tame an army of monsters and but she once again loses control over some of them and they start attacking the farm owned by the guild Elizabeth Park.
She spots both Yuuki and Pecorine appear to rescue the Elizabeth Park members and when she sees Pecorine head to the woods by herself, Karyl decides it's time to finish her mission. Despite this, as she readies a spell to kill Pecorine, Karyl begins to hesitate, recounting all of her memories with her and their guild. She is interrupted by the sudden arrival of Christina, who she learns was sent by "Eustiana" to track down the base of the secretive Labyrinth guild. She is asked by Christina if she is doing her job as per Her Majesty's orders, which Karyl assures that she is, but Christina doesn't believe her as she noticed her hesitation. Christina then offers her a "deal": she will deal with Pecorine herself in exchange for information that only she and Her Majesty are aware of that Christina isn't. Reluctantly, Karyl agrees to the deal and conceals herself nearby to observe.
Chapter 5: The Seven Crowns
At nightfall, while observing Christina chase after Pecorine, Karyl spots Yuuki being cornered by the same monsters Pecorine had lured away. She goes to help him, but both fall from a cliff and go unconscious as they are mysteriously teleported. Regaining her consciousness, Karyl realizes that she and Yuuki have been teleported to the castle throne room and are met by Her Majesty, "Princess Eustiana".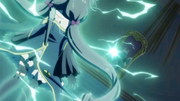 She learns that Her Majesty had been observing them the entire time and had gone tired of watching the two and were teleported by her to the throne room. Karyl asks if such a thing is even possible, getting only a vague response from "Eustiana". She then asks "Eustiana" why she is so interested in Yuuki as throughout her time observing him, she found nothing special about him, but "Eustiana" easily sees through her, telling Karyl that she knows what she thinks and feels, which surprises Karyl. "Eustiana" asks if she was longing for friends to be with or love, and asks her why she can't understand that she will always be a part of her. Confused, Karyl asks her what she is talking, but is instead zapped with a blast of magic energy by "Eustiana" for calling her "Her Majesty". Karyl cries out in pain which only further annoys Her Majesty as she strengthens the blast. In tears, Karyl asks why she is doing this to her in spite of doing everything "Eustiana" asked her to do. Her Majesty tells her not to think of this as punishment and that, despite all of her failures and incompetency, she is merely doing this to remind Karyl that she is nothing more than a tool to her, blaming herself for treating her too much as a human being. Karyl is told that she will now be receiving the entire power of her abilities as a Princess Knight and even if she were to be broken as a result, she can always be replaced. In agony and tears, Karyl begs her to stop and that she was just trying to be a good girl to her. At that moment, Yuuki regains consciousness and defends her. She is tended to by Yuuki, who tries to help her up and care for her wounds as "Eustiana" speaks to him. Karyl listens to their conversation and learns that both Yuuki and "Eustiana" had a shared history with each other prior to the former's amnesia and that was the reason why she was sent to observe him. "Eustiana" then promptly teleports Yuuki away as Karyl weakly tries to reach him before he disappears, leaving her alone in the throne room.
Chapter 8: Friends or Foes?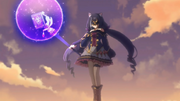 After flushing out Yuuki and his friends out of Labyrinth's secret hideout, Karyl has Octo and the Royal Knights surround them. It's revealed that she is now currently the Acting Princess, ruling over Landosol in Mana's stead. Yuuki, Pecorine and Kokkoro are shocked to see her, but she warns them and their group to surrender or she will execute them all where they stand, warning her old guildmates not to try anything and to just give up.
A minute passes and Karyl deduces that they no intention of surrendering and, despite Pecorine believing she is just pretending, she orders the Royal Knights and her legion of monsters to kill them all, causing a massive fight to break out between both groups. Karyl sees Pecorine charging straight for her and decides to take her on herself. The fight between both friends is in Karyl's favor due to her keeping her distance from Pecorine using her magic, but, Pecorine is able to jump up and reach her, taking off the mask from her face as they fall back to the ground. Karyl is hugged by Pecorine, who asks if she remembers her. She says her name, but coldly refers to her real name -- Eustiana von Astraea -- and calling her a pretended to the throne. At that moment, Karyl fires a powerful magic blast on Pecorine at point-blank range, rendering her badly injured and unconscious while the others are forced to retreat.
Chapter 9: Crisis at the Concert
TBA
Skills and Equipment
Princess Knight
As revealed later in Arc 1, Karyl is a Princess Knight, specifically serving under Mana Senri. Her ability as a Princess Knight is widely different from Yuuki's, where instead of powering up others, Karyl can tame and control any monster she sets her sights on. The sheer power of this ability Karyl possesses is shown at the Prologue where it was revealed that she was the one behind the monsters who chased after Yui Kusano, who would then attack Yuuki, Pecorine and Kokkoro.
Exactly how many monsters Karyl can control is unknown and it is similarly unknown if she can control all types of monsters as Karyl has rarely displayed this ability of her's, preferring to use her magic that she is far more adept at when fighting.
Quotes
"Perfect, perfect! I just keep on improving! I really can do anything!"
"Heh heh, beautiful, huh? I'll let you in on a secret -- I was still just an apprentice until recently. H... Hey, act more surprised!"
"I can use healing magic pretty well. If you had some kind of emergency, I wouldn't be unable to save you. Though, it'd be better if that didn't happen at all."
"You saw it, didn't you -- my secret magical practice. In that case, I'm bringing you along, too!"
"I wonder if you're prepared for this? Grim Burst!"
"H-Hey, isn't this tube leaking? It's leaking, isn't it!? And aren't there monsters in the water!? EEK! Don't come over here!"
"What are you looking at me with that envious face for? You want some of this juice? I guess I can't say no -- but just a sip!"
"Having a nice drink after sweating a lot is the best! Ahhh, tasty!"
"You look tired. Do you want to sit on this tube with me and relax for a bit?"
"I feel so happy... Is this because of you? ... Um, th... thank... N-Never mind!"
"D-Don't look over here! Quit staring at me!"
Etymology
The name Kiruya means "hope" (希) (ki), "detain, fasten, halt, stop" (留) (ru) and "question mark" (耶) (ya).
Kiruya's surname Momochi means "hundred" (百) (momo) and "earth, land" (地) (chi).
Trivia
The official translation of Kiruya's name in both the anime and worldwide servers is "Karyl".

Her name has also been translated as "Cal".
Her Japanese game name, Kyaru, is an accidental misspelling/typo of her real name, Kiruya (キルヤ KI-RU-YA > キャル KYA-RU).
References